As an avid learner, I wanted to learn a new skill. I was really counting on learning something "practical", so I've taken up driving class because that has a very practical impact on my life. I didn't expect to acquire another creative skill, and to be honest — I've been trying to avoid learning more creative things because I'm out of space for them. My studio space in my apartment is packed, my time is taken up completely, and my hands kind of hurt.

But then for Christmas, I got Moy Mackay's felting book and a pack of wool roving. As I began reading the book, I instantly connected with her approach. She is a painter herself focused on color, nature and landscape as subject matter, and loves wool. She was looking for a medium that translated the vibrance of color better, and I can instantly see what she means in her felt paintings. I've seen felt paintings before, but none that really inspired me or felt like they were using the medium to its potential. Many YouTube tutorials show you how to wet felt a marbled effect, but stop there. Otherwise, most people are familiar with felting in terms of funky hats or ruined sweaters. Her book is exciting and full of interesting, captivating art.
One thing I'd like to compliment about this book is that she takes time to explain the artistic process. The first third of the book is dedicated to talking about observation, sketching, and inspiration. She breaks down how she creates an image from start to finish, rather than only demonstrating the felting technique. Everything you need to know is in this book, including tricks around not having all the right tools in the beginning — I, for one, don't have a wooden palm washboard. I can see how a palm washboard would be useful, but it's a relief to know this can be done without one; in fact, many of the tools are things you can get at the dollar store or around the house.
Which brings me to how weird felting is. Think of it as artistic laundry. Maybe that sounds insulting, yet you are really scrubbing some wool with soap and hot water. Designing the image is equally strange, as you're laying down a bunch of colorful fluffs and somehow that will be a picture later. The process is very exciting throughout, kind of like painting with watercolor where all the results are a surprise.
As an interdisciplinary artist, I have the issue of trying to tie all my art together stylistically. This has been along process, and the biggest square peg trying to fit a round hole has been textiles. I really like to do textile, but trying to incorporate knitting into visual art is a challenge and other forms of textile art generally don't interest me. Quilting, sewing, weaving all feel too restrained and orderly.
I'm very excited that perhaps, this technique might be answer I'm looking for. I'm already imagining wintery Canadian landscapes with pastel skies and delicate lavender shadows on the snow. I'm also imaging a combo of felted background with drawn figures on paper, perhaps with sewing or acid-free glue. I can also see how it's possible to attach a felted image to a canvas painting, unlike a piece of knitting.
Below is the finished piece! I am definitely not looking for any compliments here. In fact, that much of the white backing should not be showing and I cropped this from the wonky trapezoid it really is. This is following the instructions in the book for this specific image, which I replicated as much as possible. The above image is similar to what's in the book. I am far from having the skills to compose my own image yet, so I will continue to do the projects in the book. The embroidery was the most time-consuming step, as I don't own a sewing machine and don't have space for one. The next project involves trees, so I am excited about tree shapes. I chose to send this piece to one of my grandmas.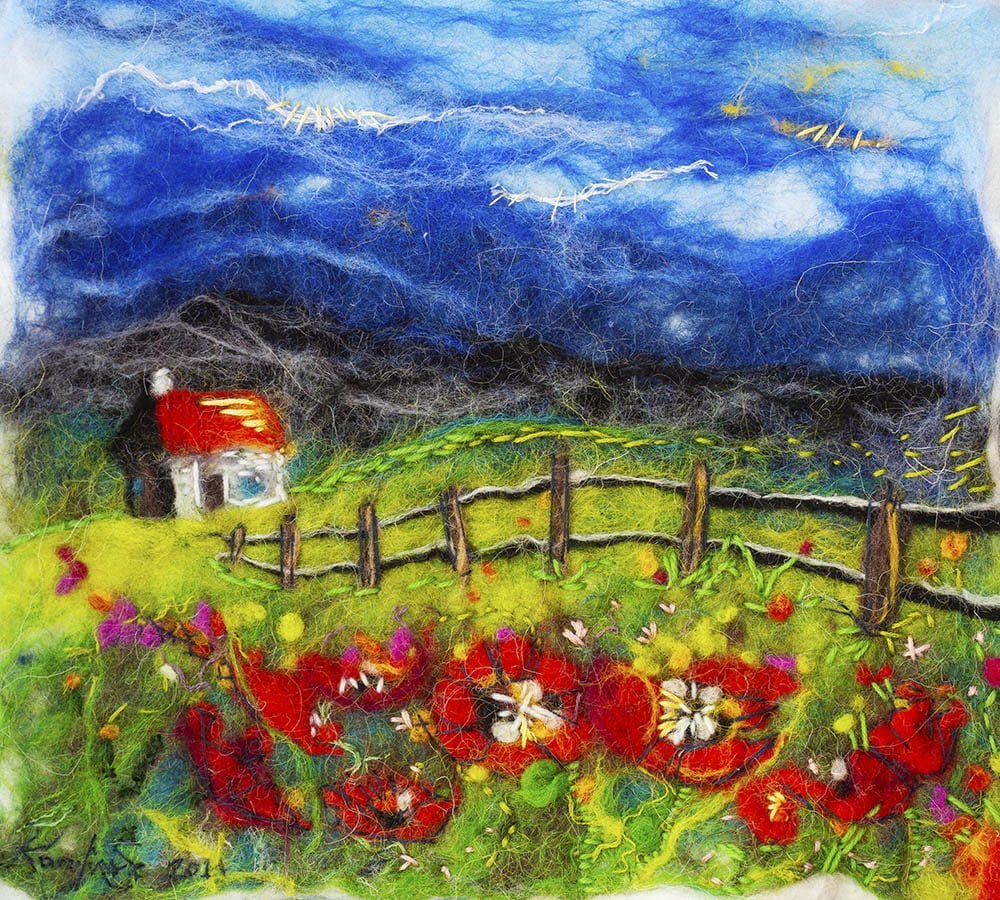 Subscribe to our newsletter!