Working through crippling social anxiety is one of my on-going New Year's Resolutions and definitely a huge road block from friendship, live streaming, and presentations. It's fairly common artists and introverts struggle with overcoming social anxiety. I can safely say it's been a work in progress for a decade, and every year I look back and I'm surprised with myself.
My social anxiety used to be such a force to reckon with I would sit at home with an empty fridge to avoid making eye contact with a cashier (this is ages ago, when I was single and no one else could go fill the fridge for me). I pitched a film script to a jury in my second year of university, and that put me so far over the edge — I blacked out in the bathroom. Like a lot of anxious people, I've also drank myself to oblivion at every social event and greatly embarrassed myself in the process while attempting to find comfort…it's very common and bad advice to drink to "take the edge off" a social situation. For me, it rarely helps, if not makes things worse. Any good therapist will try coach you away from relying on a drug response to cope with situations, especially if it's away from alcoholism.
I guess I've been wanting to write something on this for a long time, but I never felt like I was quite there. It's been a decade and I feel I've read "all that's out there" for social anxiety advice. I've gone from having anxiety attacks everyday to being very calm, and I'm starting to notice a marked difference between myself and other people with anxiety. Some people even mistake me for being outgoing!
After 10 years of social anxiety, what have I observed?
I think social anxiety is a symptom of a low self-esteem + a higher-than-normal fear of rejection and failure + being an asshole to yourself. Yes, you are an asshole to yourself.
Think of an average person in high school breaking through that initial awkwardness of having feelings for people, coming out about those feelings, ultimately getting a Yes or No response, or being ridiculed for their actions. Eventually by repeating that experience enough, the average person builds up a tougher skin, learns how to gracefully ask someone out, and things turn out okay. They make friends, have relationships, they get along with people at work.
For people with social anxiety, it's like that experience x1000 applied to every single social interaction in their life, with the added wall of paralysis on many occasions. It turns paying for groceries into a confrontational, emotionally intense, and very uncomfortable experience. But why does it matter if a cashier thinks you're awkward? Are they even paying that much attention, or are they zoned out, don't care because you're not the first person to mess up saying "Good morning" or to drop your credit card in the universe?
Anxiety also assumes people are always out to get you, when in reality…most people you encounter everyday grow into mature adults and we're all playing on the same team. We all want to get along with people around us, have a good day, make enough money to live and pursue some other ambitions. The rest are people not worth your time. What it comes down to is you are projecting that people think that harshly of you, when it's really coming out from inside. You're also giving too much credence to the insults you throw at yourself.
Thing is, in an increasingly social world, not feeling comfortable in the presence of people can have dire consequences; when you're an adult, it could mean the loss of life-changing opportunities, like finding a partner or getting a higher paying job. I've spent a copious amount of energy studying people and how to behave in certain situations, how to hold conversation, how to be warmer and friendly, and it's been a worthwhile effort. It's a funny Catch-22…be good at socializing to not feel socially anxious, but be stuck with social anxiety because you're bad at socializing.
Not to be confused with being fake. The "fake it until you make it" mentality of social anxiety advice larger plays into what I said above, which is: the raging battle going on inside of you is probably not even noticed by people on the outside, so might as well act like you're comfortable until you get to being comfortable around people.
Of course, there's lots of other helpful things you can do to get ahead of self-esteem issues and anxiety: exercise to get rid of the anxiety, stress, general negativity; get a new hobby so you have something to bond over with people; get some new clothes or a haircut because feeling frumpy doesn't help; maybe go to a toastmasters class to build up your presentation skills; get help from a doctor or therapist if you need it.
The best method for overcoming social anxiety is:
Exercising your tolerance muscles by small, incremental steps of exposure. Like real slow. If it takes you half a decade to get to a point where you can make new friends, who cares — you got there. If you're at the point I described above, as in you can't face a cashier — well then your first step would be: Sit in public spaces until being in the presence of people doesn't freak you out, practice being in a store until that feels fine, don't force yourself to buy anything. Don't try and do everything all at once. Have realistic goals! A realistic goal is "talk to one person" not "find the love of my life at this party". One of the things I did to begin with was go to a party, and just sit, observing the environment until I felt as calm and grounded as I would at home on the couch before trying to talk to anyone. The most important thing is you go out there and try. Nothing is going to happen if you keep locking yourself at home. Focus on the benefits it will bring to your life.
For more complex situations, you also have to face the reality that getting rejected or failing is part of socializing, and you need to learn to forgive yourself. No one succeeds every single time, and the failure hardly matters as much as you think…in fact, it makes for some funny memories you can laugh at later. Some social situations are going to be painful, like talking to your boss about getting a raise or unpaid over-time. There's no way around it, you just have to build up that thick skin to be able to assert yourself in those situations. Some social events are just inherently awkward… if you're at a convention where everyone's several decades older than you, you don't know anyone, and you have little to nothing in common, you are going to feel uncomfortable and that's normal. After ever social situation, sit down and think about what you improved on and focus on that. Repeat it the next time. Don't beat yourself up.
I've gone from blacking out in a bathroom to pitching a project to a client with ease, which is a night & day transformation that didn't happen overnight. It was all patient baby steps. The other mind-blowing piece of information I learned is  sometimes anxiety is excitement in disguise, disguised by negative thoughts. So the answer in these situations isn't tell yourself to try calm down, but to take advantage of the energy.
Did you like this post? For a coffee a month, you can support good content and be entered into original art giveaways!
Become an art patron.
Subscribe to my newsletter!
What does any of this have to do with art?
Recently, I started experimenting with new media tech. referred to as livestreaming. Essentially what it is: I have a live camera & mic feed uploading video to the internet, and because it happens in real-time, I can talk to and respond to my audience in real-time. It's like instant messaging, plus video. It's like my time-lapses, but more interactive. I've started streaming painting my artwork online, and so far a small audience shows up to watch and talk in my virtual studio. I find this technology pretty exciting, since working in a studio is pretty isolating. I've also met some cool artists by joining their stream. The craziest thing for me is the fact I can tolerate having a camera pointed in my face, having my voice recorded, and essentially doing a live conference. On another level, I am again practicing to get over social anxiety and never imagined myself doing this.
Here is a painting I did entirely on my livestream, over the period of a month. To give it some context, it is from a photo I took of a turtle at the Butterfly Conservatory in Niagara Falls in 2011; a picture from a pile of Things to Paint. You can bookmark me or follow me on Twitch if you'd like to watch my streams. (Note that an account is required to chat, but you can watch sans account.)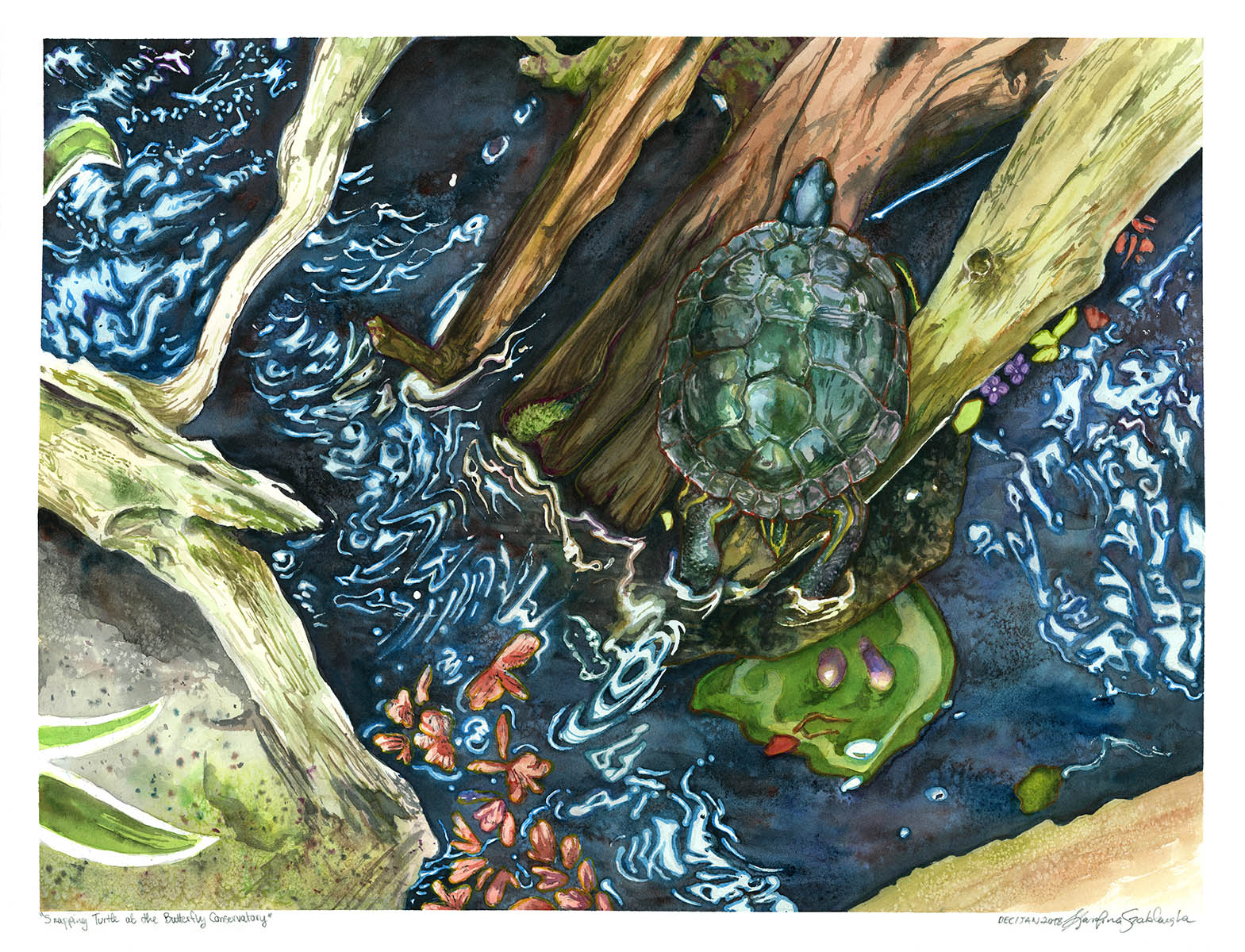 What does this mean?
It opens up some opportunity to do some fun things. For example, I am planning to do some streams where I collaborate with an artist by creating something of the same subject at the same time. Or, streaming figure drawing or portrait painting. Or getting a live critique of my work (this is very exciting to me). If I liked the stream and completed a good painting, I'll still be cutting the footage into a time-lapse.
One thing I did many years ago was do drawing for tips at a cafe during Nuit Blanche. Now I can bring that experience to the internet as the stream supports processing tips through PayPal. The event page for that is here. The time on both of these is rather approximate, and you don't have to show up on time. If you can't come, consider marking yourself going anyway & sharing the event so others can find it easier via the FB algorithms.