One of the funny tricks my mind plays is confusing thinking through doing something versus actually doing it. Well, I swore I posted all my urban sketches and en plein air paintings, but I guess I didn't!
Lets start with a few from October, 2017. Around that time of year, I went to visit some family and Nova Scotia and took my painting supplies with me. I'll likely do this from now on, since visiting Nova Scotia and not painting might as well be a crime…what a beautiful piece of Canada.
This is one of my favourite spots to revisit every year, and so I will leave it vague as to where it is. Only locals really know how to get there, and I think it should stay that way instead of being trampled by selfie-taking tourists. Not that there isn't an abundance of landscape at any stop in the road, should you choose to paint yourself. Just this place in particular…is special. This painting was completed entirely on location in about 2-3 hours.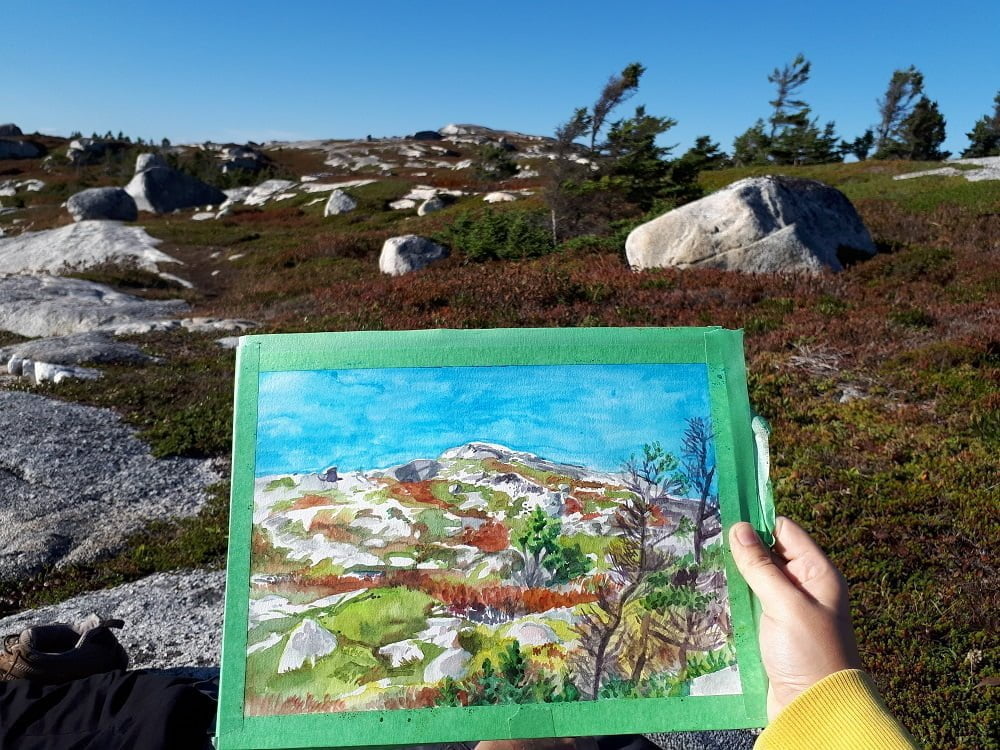 In Nova Scotia, much of the coast is rock with moss, algae, seaweed and tough plants that can tolerate the harsh, salty ocean winds. I love the uniqueness of this landscape, that it is all rock and no earth holding out the water.
Another painting completed entirely on-location, this one is at Hirtle's Beach – a small beach at the bottom of a cliff only accessible by an hour's hike and through a secret path. I painted this on top of a shady overlook facing the cove. The beach itself is accessible by a rope dangling off the side of the cliff, which I did not want to risk, given my leg situation and no one else being around besides Justin. We found this beach by hiking through the woods and through the help of some locals we greeted on the path. This was one of my favourite sketching trips of the last few years! It really felt like I was an explorer discovering a place unseen. I would like to come back one day, perhaps make something more elaborate.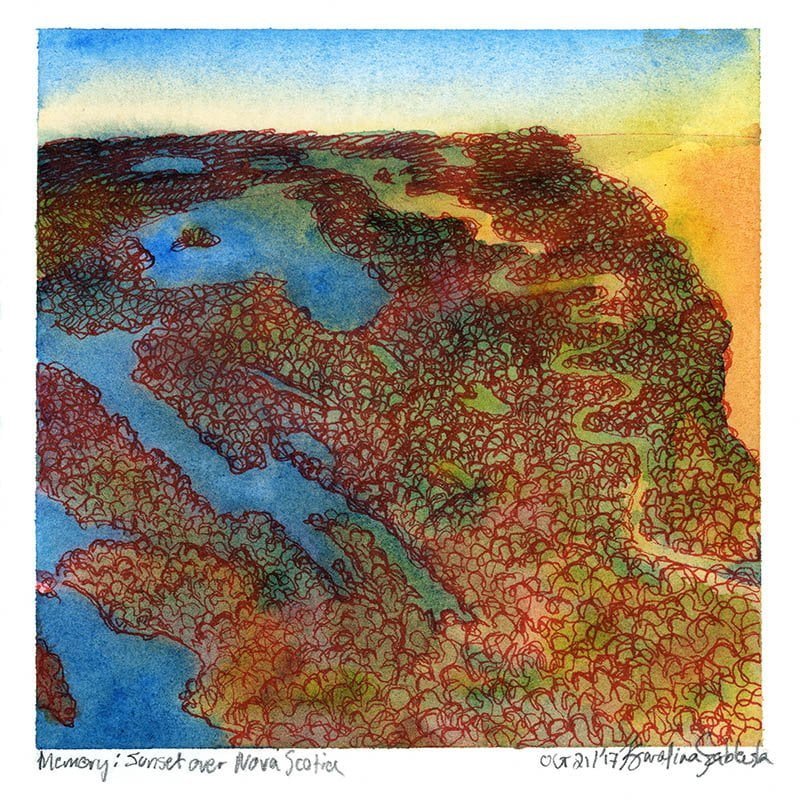 This is not created on-location, but I feel like including it in this post because I used another technique I often use for sketches – drawing from memory. Basically, I try see and memorize as much of the scene as I can, then draw it within the few following hours (while the memory of the lighting is still fresh, since that usually fades first). Much of the process is describing elements to myself, such as the S-curve of the river, colour gradient from left to right, number of lakes. I also make some decisions on how I plan to paint or draw the image; in this case, it was choosing the red pen and scribble technique instead of painting red trees everywhere in precise detail.

Bonus: I also made cinnamon buns on this trip. It was October, the house was pretty cold, but there was this strong sunlight like it was a normal summer day outside. If you're wondering if it worked — yes, it did. You should try it, but you'll probably have to watch out for curious animals.

Subscribe to our newsletter!