Original Art by Karolina Szablewska
A colorful crow watercolor print for the nursery, your office, or as gothic home decor.
This whimsical crow art can fit many rooms with many different tones. Add woodland animal decor as nursery art or the one colorful piece in your gothic home decor. This watercolor painting energizes with a strong lime green and lavender purple palette. Pretty much everyone loves this artwork, so a perfect housewarming gift.
Karolina likes to paint outside, creating urban sketches of Montreal. This is one of her best selling watercolor prints, featuring Cafe Santropol in Mont Royal.
What will it be like to be a cyborg in the future? Will people choose to become robotic? Karolina's science-fiction oil painting series looks at this theme in More Human Than Human.
Art prints & original art are sold unframed to save on shipping cost and let you match your space. Here's a taste of what a landscape painting looks like framed.
A popular art print, get this intense Montreal sunset painting for your office wall art.
Karolina paints a lot of en plein air paintings and urban sketches in Montreal, check out this gallery for more cityscape & landscape art.
Small to extra large wall art prints on thick premium archival paper & light-fast ink
A variety of designs, Karolina's greeting cards are blank inside with ruled lines, including a white envelope. Simple, sophisticated cards for any occasion.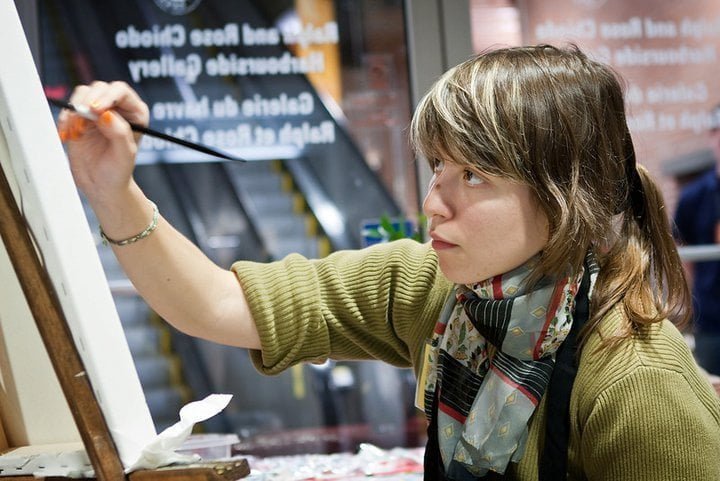 Hey, my name is Karolina Szablewska or artKarolina on social media. I'm an emerging Polish-Canadian artist in Montreal, and I love to do outdoor painting. I create watercolor and oil painting originals from photos, memory, and en plein air painting. I also love science & technology, so I make science-fiction art, medical art, and fantasy art. Painting and drawing fast is my special trick, so naturally I also love life drawing. I have that very special privilege of being creative all the time, and you can find me constantly working on something in my art studio on Instagram or Twitch. You can read more about me here – Who is this artist?
Art Blog
A spot for updates, exhibition event updates, and general musings about art and being an artist.
New Original Art for Sale
Most recently added original art in the shop. Landscapes, cityscapes, en plein air paintings, science fiction art, surrealism… Karolina mostly creates watercolor paintings and oil paintings, however she uses many mediums & the store has years worth of art so it's worth a look! Go shop for original art ->
Looking for new wall art for your home? If buying an original painting isn't your thing, Karolina makes premium quality art prints in a variety of sizes: small to extra large wall art – up to 48″x48″! Art prints for the living room, master bedroom, small art for spaces like bathrooms, narrow hallways, huge powerful art for your office or as a centerpiece for interior design. Pick a subject to get started:
Flowers, Trees & Plants | Nature, Sea & Sky | Animals & Creatures | Places & Landscapes | Cyborgs & Sci-Fi | Dark & Surreal
Popular Art Prints
Art prints that have been recently purchased. Maybe you'll like them too?