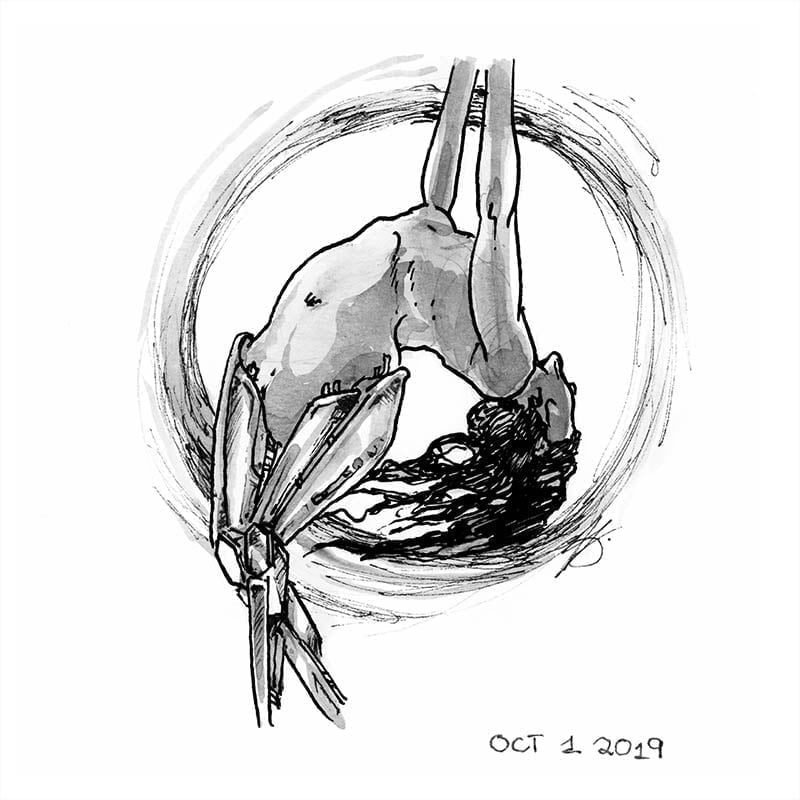 I am very excited to make this post this year! Finally, finally, I succeeded in finishing Inktober. In 2019, I had a plan of attack for Inktober. Based on previous attempts, I already knew what some of my weak spots were. Don't know what Inktober is? You can check out the official website for the art challenge. (It took me a while to scan everything and put it together.)
My theme for Inktober 2019 was Cyborgs to go along with the More Human Than Human oil painting series. This is a long-term project and this seemed like a great opportunity to use sketches as a way to brainstorm bigger ideas. Some of the sketches I made for Inktober helped resolve ideas and some were brand new ideas I will definitely be turning into larger paintings. Also, I decided to turn this into a book! All drawings are the same size so they can be pages. I will update this post when I've finished book binding and video recording the book.
Inktober Drawings Day 1 to Day 31 – Cyborg Theme
Here are all Inktober drawings from Day 1 to Day 31. Since they're all square, I've also turned them into nice minimalist canvas prints for your wall art which can be found under art prints in my shop. I really think a gallery wall of these (some or all) prints arranged in evenly in a grid would look amazing!
Strategy for Finishing Inktober
Plan ideas ahead of time.
This was the big one. It is really hard to come up with ideas on the spot day after day. Creativity is under-rated on the scale of tiring tasks, which is why original ideas are so hard to come by. Maybe at first, there's a burst of ideas, but by Day 15 – it is really hard to get the ideas to flow. Since I had a theme selected, I planned as many ideas as I could before starting the challenge and revisited planning more throughout the process so the amount of days I felt stuck was at a minimum.
Know the Flow of the Process
This comes from experience, so I will save you the learning curve. This is what the Inktober month looks like:
Week 1 – You are super hyped, you're drawing a lot and you make high-quality images. You're on a creative high.
Week 2 – You start feeling tired and question why you are doing this to yourself. Suddenly, your creative flow is sluggish. This is where most people give up.
Week 3 – You're less creative and doing the challenge becomes more like work. If you run out of ideas here, you'll end up giving up.
Week 4 – AKA The 21st. This is Inktober Doomsday. Every year, this is where my motivation dies completely and I see people drop off Inktober, so pushing through here is the hard part of the marathon. This is also where your best ideas will start happening though! You've emptied your creative mind and now your mind really has to push itself. Usually when I find a new technique through experimenting, it's in this portion of Inktober.
Week 5 (or end of Week 4 depending on year) – You're motivated again by your new experience and ideas, but you're tired. Remember you only have 5 or 6 or less left and you already did 21 drawings and you surpassed like 70% of people doing the challenge. This is where acknowledging your accomplishment will motivate you to persevere.
Limit drawing time.
With ink, I am the sort of artist that will sketch in every detail and suddenly what was supposed to be a 30 minutes of drawing turns into a 3 hour stretch where I forget to drink any water. It's very important to set realistic expectations and stick to them, either with a timer, paper size, stylistic choice, etc. This time, I limited my time to an hour or less and selected a paper size I knew would forcibly limit me because I don't like to work in tiny detail.
Limit your ambition.
An ambitious artist will want to make super high-quality work for 31 solid days. But even with a full-time art schedule, that's very difficult. Or another ambitious artist will want to push for high realism in all their drawings, which is extremely time consuming to do. Or, an artist will push for precision and become disappointed when their anatomy is a bit wonky or lines aren't perfect. Suddenly just like drawing for too long, drawing everyday becomes overwhelming.
This time, I set expectations for simple lineart, 3 shades of depth maximum, and limited myself to a few colours. It was hard, but I forgave myself for mistakes. Ultimately, I do this challenge to experiment and learn, and when you're too rigid with your expectations – that can't happen.
Draw when you can.
Drawing everyday isn't really drawing everyday in the real world, is it? There are going to be days you don't feel good or you got something that takes all day and you're just not going to sit down to draw; especially not later in the challenge when the fatigue settles in. If you feel like doing more than one drawing any given day, do it! This will prevent you from feeling trapped or stressed on a day you can't draw. I applaud anyone who can draw everyday, however I admittedly can't and working around that led me to finish the challenge instead of becoming discouraged and forfeiting.
I think I would've kept going with this art challenge year after year until I successfully completed it, yet fortunately it only took me 3 attempts 😉 For previous attempts, you can read this post. I'm not sure I'll do it again next year, or I might come up with a more ambitious idea now that I have experience. Or I might go this completely different direction…
Did you like this post? For a coffee a month, you can support good content and be entered into original art giveaways!
Become an art patron.
Subscribe to my newsletter!